How to stay dry while dancing?
Mar 19
The dancers are not like any other professionals they have to put the whole of their efforts to become a popular dancer. In between these, they have been going several dance rehearsals and due to it, they get more sweats on comparing to others. It is very common to get sweaty when you do heavy works but when you get over sweat during dance it doesn't make you feel comfortable. In this case, you have to do something to stop that sweat and sweat smell. Here are some tips provided through which you can stay dry while dancing.
Antiperspirant
The antiperspirant is specially created to minimize your sweat and this can help the dancers from getting relief from those sweaty days. These antiperspirant is coming in the spray, roll, and crystal forms, you can pick the one according to your need and comfort. This can stop sweating while dancing.
Layering
Usually, male dancers will have this habit they used to layer up with a minimum of two cloths that helps them in hiding their sweat. It is recommendable to wear two cloths but still, that cloth should be light and prefer the breathable undershirt to get good air circulation.

Handy towels
When you know you will be get sweated frequently you can hold the small towel with you to avoid the droplet formation in the face through frequent wiping. You can keep them inside your pant pocket.
Spare cloth
You are out for dancing rehearsals in this case you know you going to get sweated easily after practice. Here you can carry extra spare clothes with you and take a break in between your rehearsals and change them.
Scent
Usually, scent can avoid seating but still, it also gives you self-confidence when you are dancing with your partner. But remember don't go with deep smelling scents go with the mild ones. When you bought the right one that can last long until the night so prefers the good one to stay out of sweat smell.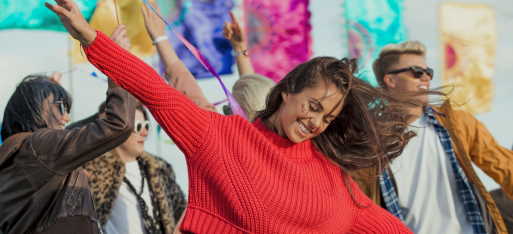 Keep hydrated
It is a very common slogan for dancers because this can be the only way you can stop sweating. Most of the professional dancers used to do this when they have a dance performance. But still, this is not a good idea because your organ may get suffocated with getting proper water supply.
Patterned cloths
To hide your sweaty cloth you can make use of the patterned tops and dresses for dance performance and during rehearsals that can help you in hiding it. It may a good idea for dancers.
Final verdicts
Through using these techniques, you can avoid getting sweat at dancing. You can go with may techniques to avoid those sweat by don't choose the one that affects your body.